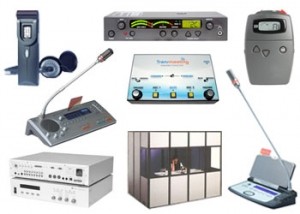 The behemoth of the interpretation equipment entourage, interpretation booths provide a quiet space in which the interpreter works her verbal magic. A normal interpretation contract specifies an interpretation booth for each outgoing language. Interpretation booths serve several important roles. They dampen the simultaneous interpreter's voice, cutting out any echo effect for the interpreter's listeners. They quell ambient noise. They also house the console.
Interpretation booths come in two primary forms: tabletop and freestanding. Tabletop booths, as the name suggests, rest on top of a table. Typically, one booth accommodates two interpreters, who lean forward, extending their heads into its sound-dampening interior to listen and to speak. Freestanding booths resemble a fully-enclosed office cubicle. They feature padded walls, glass panels, and soundproof design. In this silent womb, an interpreter might as well be miles away, so removed from the event does she feel. Often, however, the freestanding booth occupies the back of the event space. Whenever the interpreter glances out of her confinement through the soundproof glass, she sees the gesticulations of attendees and presenters, the flickering of gigantic projection screens. Yet, the only sound enters through her headphones. If she takes these off, she experiences an eerie, powerful silence.
An enclosed interpretation booth  seats two to three interpreters (though they can run even larger), contains a table running the length of the booth's interior. The booth offers shelving or storage slots for interpreters to stash and retrieve their items. Notes, conference agendas, speaker bios, briefings, technical documents, and other materials. They contain their own ventilation system and air supply with individual climate controls for adjusting the heat or air conditioning within the booth.
The interpretation booth has its own lighting system, allowing the simultaneous interpreter to view her console and materials even if room lighting has been dimmed. Booth lighting features a dimmer and uses incandescent or LED bulbs. Fluorescent light, with its crackling, degrades the simultaneous interpreter's sound fidelity, and also interferes with interpretation equipment frequencies.
For enclosed (freestanding) interpretation booths, proper seating is essential. The tight quarters and the length of interpretation stints demand small, comfortable chairs. Optimally, the chairs have wheels for interpreter mobility. Wheels and other chair functions should operate silently, for obvious reasons.