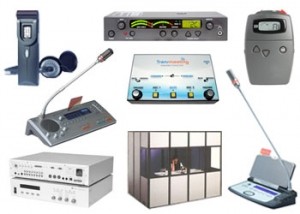 Translation Equipment NG is the largest audio visual technology rentals in Nigeria with industry leading audio visual technologies for audio visual rental services.
We include everything from managing, organizing, and delivering on technology rentals. The goal of all sessions is to ensure a successful presentation of events. Single breakout room packages that include projectors, screens, and audio systems. Translation Equipment NG rentals for larger rooms tend to be more sophisticated but, of course, can be simple as well. You need the industry's best engineers, projectionists, and technicians to staff your event, which is why it is best to hire leading professionals in the industry.
Today's meeting and conference industry has become saturated with multiple levels of surcharge and commission based arrangements that are all passed down to the end user. Unfortunately this has fostered an environment of overpriced rates on equipment rentals and labor.
When working with us, you can trust that you are dealing directly with the production source and that your budget for audio visual-support and entertainment will be spent much more effectively.

Our equipment inventory can support events both large and small from break out sessions to general sessions and beyond.
We stock a wide array of audio-visual equipment such as; projectors, screens, microphone and audio systems, video cameras and switching systems, stage lighting systems, and much more.
LCD Projector & Screen Rentals
LCD projector & screen Rentals are in stock now and available today for all your corporate rental needs. Projector rentals come in many shapes and forms. Some packages even come with lenses that include short throw, long throw, and zoom. Of course, lens options depends on the room size and application. One of the most significant benefits of projector rentals is the professional appeal they present. Another advantage is the reliability that comes with hiring a professional to do the work. You can spend more time concerned about the details of your event all while leaving the technological hiccups to the experts.
Audio & Microphone Rentals
Audio & microphone Systems are not something that should be neglected in your business meeting. You can have the best looking stage or booth, but if your potential clients cannot hear the message your team members are trying to convey, it is all for nothing. we offer the largest inventory of professionally maintained audio gear for any size production or event. Trust in our wireless microphone equipment and sound systems which range from full line-array speaker systems, to individual stand alone cabinets used to convey your company's marketing message. So whatever the venue — from giant outdoor stadiums to intimate corporate board rooms — our staff draws on years of experience to get the details right and achieve a perfectly balanced and tuned system.
Video Walls rentals
Video walls have come a long way over the past 20 years and Translation Equipment has invested in purchasing the latest technology to meet your needs. Whether you are looking to have a video wall in your tradeshow booth, or looking to utilize it as digital signage in your company's lobby,   translation Equipment NG has the right product for the right application and will be able customize each video wall to fit any area. The Barco LED panels are great for all displaying marketing videos, but if you have a lot of text throughout your presentation, the Orion Seamless Video Wall, NEC Thin Bezel LCD Video Wall or the Samsung Thin Bezel panels may be right fit for you.
Digital Signage Rentals
Our audio visual technology comapany can work with you to create Dynamic Digital Signage to display messages from your sponsors at your next tradeshow, meeting, event or convention. Sponsorship messages including video, text, or images, can be dynamically controlled and displayed across a network of monitors at your event. These messages can be displayed and controlled in a variety of ways, giving you the power to manage or promote your sponsors in the most effective way. Sponsorship Displays can increase your sponsorship revenues by offering a new way for exhibitors to advertise to conference attendees via video or still images. Multiple sponsors can be highlighted on a variable rotation schedule offering practically unlimited opportunities to sell sponsorship segments. Screens can be dedicated specifically to sponsorship or sponsorship can be added to other screens in the venue – offering complete flexibility.
Office Equipment Rentals
Looking for office equipment rental services in Nigeria.? We cover all the cities in Nigeria Office equipment rentals are not to be taken for granted in order to successfully implement any of your marketing events. We stock a variety of LaserJet Printers, Copiers and Fax Machines to meet the rental needs of your business. If you need high-volume, high resolution, color, black and white, or multiple networked units, we can handle it. Our products are always the most current to the market as to ensure there are no issues during your rental period. If there are any issues, we provide access to our technical support team. Our technical support team is available 24/7 to answer any questions and will replace the product if necessary.
DIGITAL Multi Touch Rentals
Our multi touch is the latest product to hit the Audio Visual rental market. Our Multi touch is an interactive display which engages user and captivates its audiences with functionality. This easy to use product has revolutionized the way your sales reps interact & engage potential customers on the trade show floor.
Computer Rentals
There is little point in soliciting the services of a professional company if their equipment is older than what you have at your residence. We offer the latest in PC and Apple rentals so that your event will be up-to-date for training courses and other valuable presentations. Customized systems are also available, which include: processors, memory capacity, hard drive size, and graphics cards. Networking and kiosks and are also possible amenities available with computer rental packages.
Lighting & Lighting
Lighting includes a full range of equipment and services. State-of-the-art automated lighting fixtures can add special effects to your event. Control consoles and rigging equipment also contribute to the overall presentation. LED lamps are the most popular forms of lighting in the industry because they are environmentally savvy and beautiful. Truss goes along with lighting systems and includes designs that make your event unique from the others in the industry.
Video Production
Video Production is also known as videography. This practice involves videotaping, editing, and distributing the footage. The process begins with pre-production in which video clips are reviewed and edited for production. The second stage of the process is production in which footage is perfected and prepared for post-production, which is the third and final step.
Staging & Scenic
A stage production is quite positively one of the greatest things a creative can orchestrate. There are so many things that can unfold when you are trying to bring your vision to life. Unfortunately, a stage production can turn disastrous without proper planning and coordination. Our on-site managers can help you avoid the pitfalls of stage planning and execution. They bring their expertise to the situation and ensures that things are planned adequately from setup to take-down.