Simultaneous conference Translation Equipment  & Interpretation Equipment in Abuja , Nigeria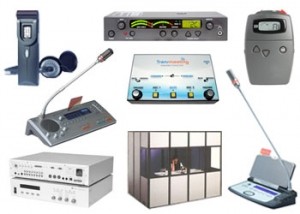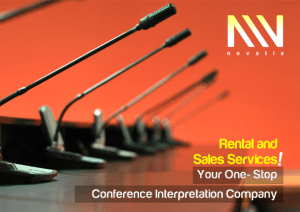 Translation Equipment NG is the leading supplier of Conference and Simultaneous Interpretation equipment in Abuja
We are the only translation Equipment company in the conferencing industry that offers both sales and rental options in Abuja, Nigeria.
Quality simultaneous Infrared interpreting equipment are essential when you are hosting an international conference in Abuja or federal capital territory Nigeria. They are an absolute necessity to ensure effective communication.
We rent out complete digital infra-red translation equipment sets for conferences, events, seminar, meetings, education programs in Abuja. Translation Equipment NG works with simultaneous interpretation equipment from top manufacturers , translations booths from the best companies. Our equipment meet all the European simultaneous translation standards.
Are you planning a multi-lingual conference in Abuja Nigeria and you need affordable translation equipment (interpretation equipment in Abuja ? Then Translation Equipment NG is the best place to go.
Abuja is becoming an ever more attractive city for international business and language barriers, Translation Equipment NG is able to offer high-quality Simultaneous translation equipment ( interpretation equipment)  in Abuja and the rest of  federal capital territory to alleviate these problems.
Our conference translation equipment (interpretation equipment)  cover all forms of interpreting for business meetings, discussions, hearings, international conferences and other events. 
We also closely match the subject of the assignment to the individual expertise of our interpreters meaning our services are always tailored to the needs of the individual client or organisation.
Our interpreters' knowledge of the subject matter means technical terminology is accurately translated and business communications run smoothly – no matter the context.   
Our translation equipment (interpretation equipment)  also cover: Wuse , Wuse 2, central business area, Garki, gwarimpa, and other districts in Abuja , Nigeria.
Translation Equipment NG provides language support in specialist fields for over 205 languages in Abuja and all over Nigeria.
Thanks to our large network of professional interpreters, we can always find the most experienced and appropriately qualified interpreter for your requirements. Our Abuja interpreters are able to assist in all contexts, from business meetings to conferences, from depositions to in court.
Language barriers may arise in any setting in an international city like Abuja, whether there for a convention, business meeting, or just to experience the many historical and cultural attractions of the city.
Translation Equipment NG services to individual requirements to ensure well-informed language support of the highest standard. We can also provide extra project support, organisational assistance, translation services and cultural advice in addition to all forms of interpreting. 
Simultaneous Interpreters for Conferences in Abuja, Nigeria.
Translation Equipment NG can provide conference interpreters in locations in Abuja and in over 205 languages.
Our professional simultaneous interpreters are experts in both the source and target language. Adapting to the speech pattern of the speaker quickly, they convey all information faithfully with an awareness of cultural and linguistic idiom and an in-depth knowledge of the terminology relating to the subject in question.
Translation Equipment can provide simultaneous interpreting solutions of the highest quality in locations all over Abuja
We have experience providing language support at conferences for numerous global organisations and can boast a large network of professional linguists who have expertise in a wide variety of fields.
Business Meeting Interpreters in Abuja
Business Meeting Interpreters in  Abuja for pitches, presentations, negotiations, discussions and collaborations and more
We offer professional interpreting services for business meetings,conferences, seminars, congresses, negotiations and discussions in multiple languages.
With over 25 years experience and a large network of qualified linguists, we provide a tailored, personal service to suit your every business requirement.
In addition to being gifted linguists, our business meeting interpreters are also informed of the local business etiquette, professional conduct and the corporate rules. Their familiarity with the subtle cultural nuances and terminology, ensures fluent and precise communication between negotiating parties, which is, in turn, essential to our clients' success.
Translation Equipment NG provides interpreters who are familiar with business practices, etiquette and local customs in many countries and cultures. They can assist you in the cultural induction of the client abroad and facilitate understanding between both parties.
About Abuja, Nigeria
Abuja  is the capital city of Nigeria located in the centre of the country within the Federal Capital Territory (FCT). It is a planned city and was built mainly in the 1980s,[5] replacing the country's most populous city of Lagos as the capital on 12 December 1991.[6] Abuja's geography is defined by Aso Rock, a 400-metre (1,300 ft) monolith left by water erosion. The Presidential Complex, National Assembly, Supreme Court and much of the city extend to the south of the rock. Zuma Rock, a 792-metre (2,598 ft) monolith, lies just north of the city on the expressway to Kaduna.
At the 2006 census, the city of Abuja had a population of 776,298,[7] making it one of the ten most populous cities in Nigeria. According to the United Nations, Abuja grew by 139.7% between 2000 and 2010, making it the fastest growing city in the world.[8] As of 2015, the city is experiencing an annual growth of at least 35%, retaining its position as the fastest-growing city on the African continent and one of the fastest-growing in the world.[9] As at 2016, the metropolitan area of Abuja is estimated at eight million persons, placing it behind only Lagos, as the most populous metro area in Nigeria.[2]
Major religious sites include the Nigerian National Mosque and the Nigerian National Christian Centre. The city is served by the Nnamdi Azikiwe International Airport. Abuja is known for being one of the few purpose-built capital cities in Africa, as well as being one of the wealthiest.[10]